Second cycle progress reports are available on Parent Portal. If you need your parent portal ID, please email
phyliss@burkevilleisd.org
.
WE ARE TO EXCITED! Please check out our online store to order some awesome gear. Please visit
www.fancloth.shop/HCCPA
to check out our great selection. Order within the next two weeks to catch this round of shipping. #bleedblue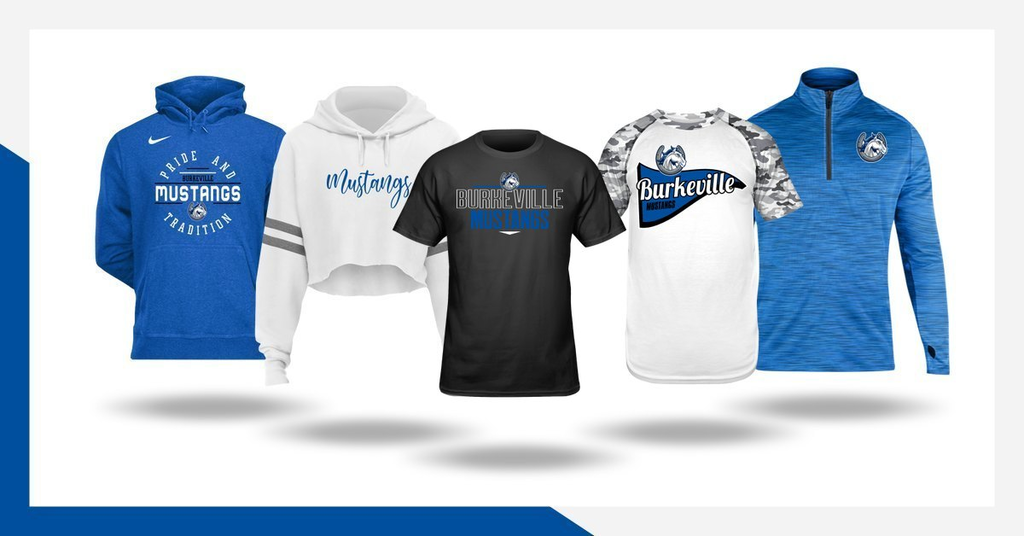 Mustang Family just a reminder that Balfour will be on campus tomorrow for cap & gown order as well as ring order. The full payment is not due, but a minimum deposit of $50 is for the ring order and $80 for cap and gown packages.

Today's volleyball game versus Sabine Pass has been cancelled.

Our Homecoming game starts at 7 pm. Social distancing protocol is still in effect. Temperatures will be taken at the gate and masks are recommended. We are still at 50% capacity with FREE ADMISSION. Come out and support our Mustangs!

Mark your calendars! Picture Day will be Tuesday, October 27, 2020. See your child's Picture Day brochure for more information.

Our homecoming pep rally will be held in the New Gym tomorrow, October 23rd at 2:45 pm. Visitors are welcome and will have a designated section to sit in. Masks are recommended and social distancing will be practiced. Please come out and support our Mustangs!
Mustang commUNITY we need you. We are in the process of having a state representative come to Burkeville ISD to help organize our PTA. We need 20 community members or parents willing to come out and four who are willing to take on leadership roles such as president, vice president, secretary, and treasure. If you are interested please email Stephany Powers at
spowers@burkevilleisd.org
or text her at 210-535-9849. Thank you for all that you do. #bleedblue #mustangPTA #volunteer

Monday, October 26th will be an instructional day for students. The Parent/Teacher Conference day has been moved to February. Stay tuned for more details!
Mustang Family, Balfour will be on campus Wednesday at 10am. They will be giving information on ring orders for juniors as well as cap and gown for seniors. Please get with your junior or senior for more information. You can contact Ms. Powers as well. #bleedblue

Due to some technological issues, Pre-K and Kindergarten Report Cards will not be ready until next week. We thank you for your patience and understanding.

First cycle report cards are available on Parent Portal and a paper copy will be sent home with students today. If you need your Parent Portal ID, please email
phyliss@burkevilleisd.org
.

Due to the threat of Hurricane Delta and the uncertainty of its path, BISD is cancelling school on Friday, October 9th. Monday, October 12th is a school holiday. Students and staff will return Tuesday, October 13th. The volleyball and football games vs. Sabine Pass will be held Saturday, October 10th. The volleyball game will be at 12:00 pm and the football game will be at 2:00 pm. Please stay safe! We will see you Tuesday, October 13th! #GoMustangs
Parent meeting today at 4:30 in the learning center. We value your input and hope to see you there! #bleedblue

UPDATE: The safety and health of our students is of utmost importance to us. Due to the uncertainty of Hurricane Delta in the Gulf, the football and volleyball games that were rescheduled earlier for tomorrow have now been postponed. We are monitoring the situation closely and will continue to keep you updated regarding the rescheduling of these games. Please check back often for the latest information. As a reminder, due to the earlier change, Meet the Mustangs is postponed as well.
Mustang CommUNITY, just a reminder that Bloodshare is on campus today until 3:30 pm. They could really use our help during this crisis. #bleedblue
Parent Meeting Update: October 7, 2020 at 4:30 pm in the Learning Center. Topics to be discussed are mental health, Parent and Family Engagement Committee 2020-2021, Homecoming committee 2021-2022. PTA!!!!! If you would like to attend but unable to, please email
spowers@burkevilleisd.org
or text 2105359849 if you have not already. Thank you for all that you do. #bleedblue #parentsmatter

Make plans to attend our Blood Drive on Wednesday, October 7th, from 9:00 am - 3:00 pm and help save a life! Click on the link for more details.
https://5il.co/lthr

Hello Community: Due to unknown circumstances, West Hardin ISD has reached out to Burkeville ISD at noon today and notified us that they would not be able to make the trip to Burkeville today to play a volleyball game. In order to sustain the excitement and energy of the community and schools for our program; there will still be volleyball activities starting at 4:30 PM as scheduled. There will be an inner squad game amongst the Jr. High players today. #GoMustangs